Pour rebooster l'audience d'un blog, rien de tel qu'un petit déballage de vie privée.
Donc ça c'est moi, un modèle de dérision et de joie de vivre etc...
Voici des photos de ma chambre. L'étagère au dessus de mon lit :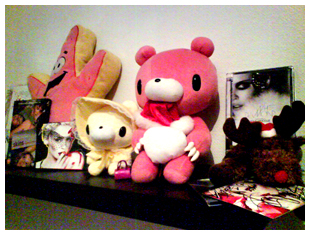 L'étagère au dessus du bureau d'où je rédige mes posts :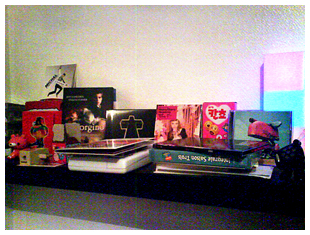 Et puisque ce soir je n'ai décidément aucune pudeur, voici en exclusivité l'intérieur de mon iPod shuffle :
Adele, Alizée, Bat For Lashes, Beirut, Bitchy Bitchy Ya Ya Ya, Britney Spears, Calvin Harris, Christophe Willem, Cloetta Paris, Danger, Don Juan Dracula, Dragonette, Dyylan, Editors, Feist, Frankmusic, Girls Aloud, Goldfrapp, Gossip, Hercules and Love Affair, Hot Chip, Hushpuppies, Interpol, Jil Caplan, Kate Nash, Kitsuné Boombox minimix, Kylie Minogue, Los Campesinos!, Likke Li, Mark Ronson, Midnight Juggernauts, Nada Surf, New Young Pony Club, Oh No Ono, Operator Please, Pin Me Down, PJ Harvey, Priscilla, Pylon, Rhesus, Rihanna, Robots In Disguise, Robyn, Roisin Murphy, Sally Shapiro, Small Sins, Subway, Sugababes, Teenager, The Cardigans, The Do, The Go! Team, The Raveonettes, The Teenagers, Timbaland, Tiny Masters Of Today, We Start Fires, Yeah Yeah Yeahs, Yelle.
Et "Great Dj" des Ting Tings, dès que j'aurai mis la main dessus.
Hi-hi-hi-hi-hi-hi-hi-hi...